OK1DFC septumfeed with 3 scalar rings.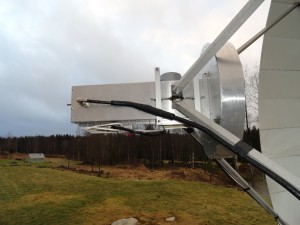 TX feeder 1/2″ and 7/8″
LNA G4DDK 0.2 dB NF
My first 1296MHz EME QSO was made 13th February 2011 with G4CCH, Howard.
My station on 1296MHz EME is:
The 4m dish with OK1DFC septumfeed 3 scalar rings
LNA: G4DDK 0.2dB NF
PA: SSPA 500W by PE1RKI, Bert Modderman
Elecraft K3/10 + transverter + M57762 or TS-2000X driving SSPA to 500W
Long 7/8″ coax so have approx  350W at feedpoint. Calculated the attenuation to be approx 1.5dB.
Echoes from some strong stations and from my station.
  My own SSB echoes, listen carefully 😎